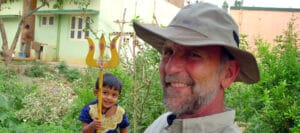 Robert Strock, Co-Founder and Co-Chairman
Robert has maintained a private spiritual and therapeutic counseling practice for forty years, specializing in purposeful living, relationships, and death and dying counseling.  Over this time he has developed a unique approach to communication, contemplation and inquiry, and is as much a teacher as he is a counselor. In his desire to share this body of work with a broader audience he has developed a video website for use with psychology students, therapists, seekers of truth and those wanting to understand themselves on almost any level.  >He is chairperson and co-founder of the Center for Authentic Living, which has distinguished itself among leading counseling practices for the southern California business and entertainment communities. During his extensive career, he has worked intensively with many foundations in facilitating communication and forging strategic guidance partnerships.  He has served as an active participant of the Jenna Druck Foundation, The Earth Trust Foundation, Beyond War, and the Center for Partnership Studies. Robert served as counselor and instructor of psychology at Santa Monica College, supervised Southern California's Regional Organ Procurement Agency's counselors (ROPA), and also cared for the terminally ill at Brotman Hospital and Southern California Hospice. Robert created Psycho-Economics, a theory of integrating financial decisions with our highest values. He also maintains a real estate license and has led an investment consortium in acquisitions of commercial real estate for two decades. He is a licensed Marriage Family Therapist and holds Bachelor's and Master's degrees in Psychology.  Robert is ordained as a minister by the Association for the Integration of the Whole Person and inspires many through his counsel and teachings on meditation, inquiry, compassionate living, and humanitarian values.
---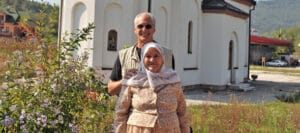 Dave Knapp, Co-Founder and Co-Chairman Dave brings with him more than 35 years of experience in the non-profit, public service, psycho-therapeutic and business worlds. David co-founded and administered a number of innovative programs in the 1970's for the treatment of the emotionally disturbed and adolescents.  He has been innovative in the use of internships as an effective training strategy for the psycho-therapeutic professions.  David also provided counseling services at Santa Monica Community College, worked with drug and alcohol programs, and provided hospice counseling. After some years as a practicing psychotherapist, he started and currently maintains a successful real estate company that includes a specialization in commercial real estate finance.  His unique gifts for conflict resolution, strategic guidance, and communications go beyond business as he is well known in the community as someone who can bring out the best nature and intelligence of the people with whom he works. During the decade he has been involved in Global Bridge Foundation, David has a specific interest in microfinance, collaboration and consultation with non-profits and in developing opportunities for Program Related Investments.  He utilizes his combined communication and business skills to find creative solutions for the organizations with which Global Bridge Foundation works. David has a Bachelor of Science degree in Business/Urban Studies, an Masters in Psychology. He has been a licensed RE Broker and Marriage Family Therapist since the 1970's.
---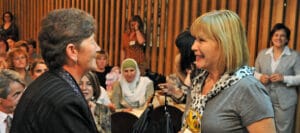 Susan Knapp, Founding Board Member
Susan holds a masters degree in Special Education and a Bachelor of Science in Education. She has been an educator in both the public and private sector for almost 20 years.  During this time, she worked primarily with severe and moderately disabled teenagers in the Southern California area. Early in her career, Susan worked as a research associate for the Institute for Educational Research based in Philadelphia, PA.  She assisted in evaluating all federally funded special education pre-school programs in the state of Pennsylvania.  Additionally, after moving to California, she worked at the Rand Corporation in conjunction with the Department of Health and Human Services.  These experiences have given her a broader perspective about education as a life-long process as well as its role in the improvement of life circumstances throughout the world.  The value of education is very prominent in the projects in which she is involved. Her first project with Global Bridge Foundation was organizing and directing the Being a Difference that Makes a Difference Young Leadership Conference in the spring of 2000.   This conference was held at UCLA and hosted 300 Los Angeles high school students.  During the past 10 years, she has also been solely responsible for choosing the recipients of the annual Blanche Hunsaker Scholarship in the arts.  This scholarship is sponsored by Global Bridge in memory of Susan's mother.   As an extension of her interest in education, Susan has been involved personally with Women for Women International, with the support of Global Bridge.  WFWI is a world renowned charity that supports and educates women in war-torn countries. In 2009, Susan visited the WFWI program in Bosnia & Herzegovina.  As a result, Global Bridge is currently looking for ways to collaborate with WFWI in Bosnia and elsewhere.   Susan continues to bring organizations to Global Bridge that she believes can further its mission,  such as Heifer International, an organization finding sustainable solutions to hunger and agricultural development around the world.
---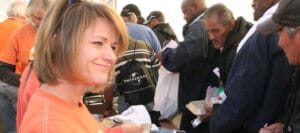 Shelley Pearce, MA., LMFT, Board Member
Shelley has served on the board of Global Bridge Foundation since 2009.  She has a private psychotherapy, supervision, and consulting practice in Los Angeles and is on the faculty at Santa Monica College, where she teaches "Personal Growth and Social Awareness" and counsels students with disabilities. Shelley currently serves on the board of the California Association of Marriage and Family Therapists, Los Angeles Chapter, and was President from 2017-2018.  Shelley directed the filming and editing of the Humanistic Spirituality website, a project focused on supporting those in the counseling fields with hundreds of videos, articles, and downloadable guided meditations.  Previously, Shelley held the position of Director of the Conservatory at Wilkes University and head of Cultural Outreach at the institution. In this capacity, she oversaw hundreds of performances and events, counseling students and collaborating with faculty and regional groups. She has volunteered with numerous nonprofit organizations throughout her career, and her talent for making connections among individuals and groups to better the community resulted in her being awarded "Community Leader of the Year" by the six county Northeast Pennsylvania Educational Intermediate Unit. Shelley served four terms as chairperson of the Cultural Council of Luzerne County, a nonprofit agency to which she contributed her expertise for sixteen years.  Her efforts there included collaborating with regional and state governments, educational institutions, nonprofit agencies, and foundations to develop and fund presentations by esteemed spiritual teachers and thought leaders; retreats with Tibetan Rinpoches; lectures; concerts; theatre performances; and art exhibitions. She has produced numerous videos, music albums; was an acting editor for several non-profit publications; and served as an adjudicator to the Pennsylvania Council on the Arts.  Shelley also helped facilitate multi-tiered environmental awareness programs, collaborating with individuals from more than 30 cultural, political, and ecological organizations along the Eastern seaboard. Shelley holds an M.A. in Psychology and a B.S. in Finance, and is an ordained minister. She founded and ran a small corporation and was an investment advisor early in her career.  The combination of early Wall Street training, an interest in philosophy, physics and psycho-spiritual paths, and work with numerous charitable organizations deepened her understanding of the economic dissonance and vast suffering in our global environment. This helped catalyze her desire to focus on therapeutic and humanitarian initiatives in support of a more connected, compassionate and peaceful world. 
---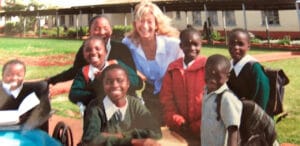 Patricia Bisch, LMFT, Board Member
Patricia has been a marriage and family therapist for over 35 years in the Santa Barbara and Los Angeles areas specializing in EMDR. For 18 years, she has served as a licensed psychotherapist for the special needs' students of Santa Monica City College. Patricia has a Masters degree in Marriage Family Counseling and holds a lifetime California K-9 teaching credential. Early in her professional career, she trained and worked in alternative education which focused on the individual needs of a child and the different ways they learn. She has taught classes and led self-discovery workshops for women. In 2008, she published, "Freedom from Food," an innovative and practical guide for those struggling with weight issues. Patricia's philanthropic work includes creating microcredit loans for women with aids living in the slums of Nairobi, Kenya. She also joined Global Bridge in forming a microcredit loan for a village in El Salvador. In addition, she raised funds to assist in several Mayan Villages in Guatemala to form businesses, send children to school, and with the help of Global Bridge built silos to protect their food supply. Patricia is dedicated to making a difference in the world and has been a supporter of the Global Bridge Foundation for many years. She has worked with the Global Bridge Foundation on "Being a Difference that Makes a Difference Young Leadership Conference," and other yearly projects such as feeding the homeless and creating hygiene kits for a downtown LA project. Patricia is interested in meeting with other organizations and individuals that can join with Global Bridge in collaborating on projects to unite the planet and end suffering.