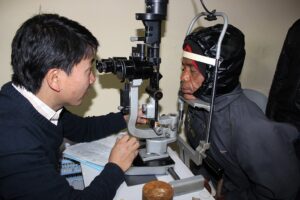 Eye disease occurs in epidemic proportions in Nepal. Global Bridge Foundation was asked to participate in the funding of an internship to train a Nepali doctor in western methods of healing eye diseases common in Nepal, with a specific focus on cataracts and uveitis. 
Dr. Sanduk Ruit, Director of the Tilganga Eye Center, a World Health Organization Collaborating Center for the Prevention of Blindness, requested funds from the Pacific Vision Foundation (PVF) in San Francisco, CA to support the training of a uveitis specialist for the country of Nepal.  At that time there was no fellowship-trained uveitis specialist in the entire Kingdom of Nepal.  The Pacific Vision Foundation approved the request by awarding the Uveitis Research Fellowship to Dr. Anu Manandhar. 
After learning about the project from David Heiden, M.D., of PVF, Global Bridge Foundation contributed funds to supplement the grant supporting the Uveitis Research Fellowship program.
In September, 2007, Global Bridge board members Robert Strock and David Knapp were able to personally visit Tilganga and directly see the work they are doing.  It was clear from this visit how much the people of Nepal rely on their expert services.