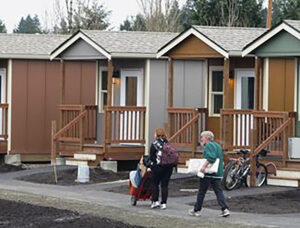 As is finally common knowledge, homelessness is a massive and ongoing issue in the United States and many countries worldwide. This elusive problem has been a mission for The Global Bridge Foundation. In this "Best Of" series, we dive into the issue and explore how the Global Bridge Foundation is partnering with leading organizations and people to pave the way to make significant steps toward ending homelessness with evidence-based solutions to multifaceted challenges. You will hear from some of the most creative minds in the country who have dedicated their time and resources to ending the homelessness problem.
Our current system for dealing with this crisis is not working. We can create therapeutic communities using public-private partnerships that bring ecological and cost effective solutions like regenerative agriculture, grid alternatives which teaches solar installation both in structure and solar fields, repurposed or modular housing, and job training right on site. This will allow individuals to utilize their skills to create products the world badly needs like healthy food or clean energy. The dignity this gives to the unhoused community, of not always asking for something, but also helping can be transformative. Contrary to popular belief, many of the unhoused are highly motivated to aspire toward strong financial performance and positive social change which are inherently connected. The tragedy and the blessing is that homelessness is quite solvable. Robert's dream is to create models of lower-cost communities that have job training and mental health services where they live and create a sense of belonging at the same time. Listen to uncover roadblocks and breakthroughs that can solve the problem and learn how you can get involved.
Click on the ▶ below to listen to this episode.
Mentioned in this episode
The People Concern
Hope of the Valley Rescue Mission
Dev Equity (Impact Investment Fund)
SHARE! (Self-Help Support Groups)
Life Moves
West Coast Care
Everytable
The Global Bridge Foundation
Note: Below, you'll find timecodes for specific sections of the podcast. To get the most value out of the podcast, I encourage you to listen to the complete episode. However, there are times when you want to skip ahead or repeat a particular section. By clicking on the timecode, you'll be able to jump to that specific section of the podcast
Transcript
Announcer (00:00):
The Missing Conversation, Episode 76. Best Of Series.
Announcer (00:06):
On this podcast, we will propose critical new strategies to address world issues, including homelessness, immigration, amongst several others, and making a connection to how our individual psychology contributes and can help transform the dangers that we face. We will break from traditional thinking, as we look at our challenges from a freer and more independent point of view, your host Robert Strock has had 45 years of experience as a psychotherapist, author, and humanitarian, and has developed a unique approach to communication, contemplation, and inquiry born from working on his own challenges.
Robert Strock (00:44):
Welcome everyone to The Missing Conversation. This is our end-of-the-year "Best Of" series. It's a compilation of some of our favorite episodes and clips that we have pulled together in a single episode for you. We hope you enjoy what you're about to hear. We hope these excerpts, in the Best Of series, inspire you to listen to our full episodes. You can find the full episodes by visiting our show notes on our website at theglobalbridge.org. On the menu bar [right column], just click the "Best Of" tab and thanks so much for listening. Homelessness is a massive and ongoing issue in the United States and many countries worldwide. For those of us fortunate enough to have a roof over our heads and food to eat this problem may be elusive, but at The Global Bridge Foundation, we believe in concert with other foundations that we have found multiple solutions that are clearly viable.
(01:48)
We have hope and resources for our homeless brothers and sisters to not only be given houses and communities for the rest of their lives, but also to save government costs in the long term. In this Best Of series, we dive into the issue of homelessness and explore how The Global Bridge Foundation is partnering with leading organizations and people and paving the way to end homelessness. You will hear from some of the most creative minds in the country who have dedicated their time and resources to ending the homelessness problem. Our current system for dealing with this crisis is not working, so keep listening to uncover roadblocks and breakthroughs that can solve the problem and to learn how you can get involved. John Maceri is the Chief Executive Officer of The People Concern, a leading provider, and advocate for evidence-based solutions to the multifaceted challenges inherited in homelessness.
John Maceri (02:56):
The issue of homelessness is solvable. I do not know any person working in the permanent supportive housing space or in homeless services, or most of our elected officials who get up in the morning scratching their head saying, gee, we don't know what to do. We know exactly what needs to be done, exactly what needs to be done. We're never gonna get ahead of the issue of homelessness unless we scale, um, significantly the production of permanent housing. It has really been our mission to disrupt the current system of housing production by really looking at how can we lower the cost per unit. We simply cannot get to scale at over $550,000 a unit, and taking three to five years to build one unit that will house an individual or a couple.
Robert Strock (03:44):
If we utilized modular housing and we also used modified construction for larger buildings. Both situations would be alternatives that would allow the cost to be reduced. We could also use mobile home parks, malls, office buildings that are old buildings that are ready to be torn down and then use modular housing or construction or multiple unit configurations. We're gonna be saving money once we set up these lower-cost facilities. Try to let that in. What a transformation that will be for our county, for our state, for our country, as a model for the rest of the world.
John Maceri (04:28):
We could create therapeutic communities, we could use public-private partnerships. We could bring in, you know, things like grid alternatives to do solar, and use organizations like Everytable that have done a great job in being able to produce high quality, nutritious food to be able to supply these communities. I've spent my life pushing up against very broken systems, but I will never stop saying that the current system is fundamentally broken. There are really good, great, wonderful people trying to do good, great, wonderful things, but they are working within systems that are fundamentally broken. And in the crisis we're in, it's unconscionable and it's inhumane, in my opinion, to continue pretending that the status quo is good enough. As a society, frankly, we have to decide what are we gonna be angry about? Because you can't have it both ways. You can't be mad that people are on the streets and you can't be mad when we wanna put them in housing.
Robert Strock (05:27):
After spending many years in the nonprofit world, in 2009, Ken Craft started Hope of the Valley Rescue Mission. His goal from the beginning was to create a responsive organization to address the growing problem of hunger and homelessness in Los Angeles.
Ken Craft (05:45):
For many years, I was a pastor and I had my own broken world experience, and I lost everything. It was a very dark time in my own personal life, and one day a couple years later, I had a friend ask me, Hey Ken, have you ever ever considered working with the poor and the homeless? And it was one of those defining moments, as I was sitting there and I thought that could have been me. I left that day and I just said, God, if you see fit to use me to give people a second chance in life like you've given me, then I'm hoping for business. In reading your white paper, one word that stood out to me and I wrote it down was identifying people that are part of this community as members. And I thought, you know what a beautiful way to say it. You're a member of a very special fraternity of people working together to end their homelessness.
Robert Strock (06:29):
When you identify the 10 different communities, and I'll just mention a few of the 10 right now, single women, or you have families, or you have people that have come out of prisons, or you have people that have addiction problems, or you have high functioning homeless people that are more recently on the streets, or you have people that are under and unemployed, you would keep those groups as neighbors so they will feel safe with each other. Communities that are really feeling like communities because they identify with their neighbors, then the counseling that goes along with that component also is specialized for the specific needs of the communities. Again, here's Ken Craft.
Ken Craft (07:08):
How can we create solutions that are sustainable for our planet, for our members, for our staff, and for the future? Uh, it's amazing how much we don't hear about, uh, that we need to hear about, to be able to have a property that could be developed into a community of like-minded people that are working up and out, uh, of their homelessness. If it's permanent housing, hey, you're not homeless anymore, okay, you are not homeless.
Robert Strock (07:37):
Elizabeth Collet Funk, is the senior general partner at Dev Equity an Impact Investment Fund, focusing on low-income housing, urban revitalization and sustainable agriculture in Latin America, Nicaragua, Honduras, Panama and more. Elizabeth has dedicated her career to impact investing and corporate social responsibility, demonstrating that strong financial performance and positive social change are inherently connected.
Elizabeth Collet Funk (08:08):
Whatever we're doing, we're obviously not doing it right because we're spending more and more money and the problem keeps getting worse, and so maybe some fresh thinking can be helpful. The role that I see myself playing is to help bring really passionate, smart people in and start thinking about where we can all contribute. We could actually have investors invest in the buildings themselves and then lease them back to the city or county at a rate that would pay the investors back with a handsome fee, harnessing that self-interest. Then all of a sudden we're gonna have all sorts of land developers standing in line asking us to put shelters there. The homeless, if they could be involved in also doing something great for our environment, the dignity that gives them to not always be asking for something, but to be also be helping.
Robert Strock (08:53):
The homeless community can be given job training right on site, and what that allows is the esteem for the individual to utilize their skills that can create a product that the world badly needs, like food or clean energy. Brian Ulf currently serves as the president and board chair of SHARE! Self-Help and Recovery Exchange and SHARE! Collaborative Housing. He and his organization have a totally unique approach to the homelessness challenge.
Brian Ulf (09:31):
You know, right now there's over 10,000 single-family homes available in Los Angeles that are available for rent, and SHARE! goes and negotiates with the homeowners to move people into these homes and move them in quickly. We have over 90% of our residents attend self-help support groups, and even, you know, 15 to 20% of our people go on and enroll into higher education. We ran into a developer that was building two stories, five bedrooms, three baths upstairs, five bedrooms, three baths downstairs. We put two people in every room so that facility would hold 20 people. And you know, it's an interesting concept. When people move into what becomes what they believe is their white picket fence-type home, it changes your mental thought process. They feel at home, they feel love, they feel responsibility. You build trust again, all those things get these people back into the game and allows them to come back to society. Versus the existing situation is let's just get 'em off the street and put 'em up in a room because when you're on the street, that's costing me $45,000 a year to keep you there.
Robert Strock (10:35):
Today we're gonna have the honor to meet the manager of the Life Moves program, the largest comprehensive program for the unsheltered population in Northern California. The head coordinator is Brian Greenberg, PhD. He's a licensed psychologist with over 25 years of experience developing and managing behavioral health and housing programs.
Brian Greenberg, PhD (10:58):
Let me talk about our, uh, Masters in and PhD in PsyD level training program. It serves three main purposes. The first is that great programs are a nexus of research and practice, and when you bring graduate students in, especially when you bring them in in large numbers, they see things from a different light. We have about 20 Master of Social Work students, about 70 Doctor of Psychology, Doctor of Philosophy, uh, psychology students, PhD and PsyD students. It's a large training program. It serves multiple purposes. It's a relatively cost-efficient way to serve people. What you call NIMBY, not in my backyard, I like to refer to as BANANA, build absolutely nothing anywhere near anybody. Unsheltered people, uh, occur in every neighborhood, in every community on the West Coast, whether it's an affluent community, whether it's a more impoverished community. And I think what we need is for middle class and persons of affluence to realize that it's better to have those people housed in their community than to have them living on the street. You can really dislike homeless people and still want a right size shelter in your community, if you understand that it's not gonna deleteriously affect the value of your home, and it's not gonna be a blight on the community.
Robert Strock (12:30):
It needs to be made law that there has to be proportional responsibility in the counties that have a homeless population. And so for example, Los Angeles County has, let's just say 60,000 homeless people and there are 87 cities in Los Angeles. Each city has a certain population. If you proportionalize the responsibility for homelessness based on the population of each city, and the responsibility was shared by those 87 cities. So unless it's mandated by law and it's overseen by a state czar and a local communities czar, it's not going to happen.
Brian Greenberg, PhD (13:11):
We need to overcome BANANA— build absolutely nothing, anywhere near anybody. And I think one of the keys to doing that is engaging with law enforcement. You know, when law enforcement gets on your side, the community opposition tends to melt away. When you have the chief of police come in and say, this will make it safer for the community and for my officers and for the merchants and for you residents. First, we need to have enough private doors for everyone that's free and where people are treated with dignity. And then second, we have to stop enabling and or encouraging tents and other structures. But you can't do that until you've created enough low-cost doors at $500,000 a door, you're just not gonna be able to develop it quickly enough.
Robert Strock (14:09):
Today we're gonna have the immense honor of speaking with Pastor Ron Hooks. He's been in the ministry for 32 years and for the last 26 years, he's dedicated his life to helping the homeless. Pastor Ron founded West Coast Care. West Coast Care specializes in helping people reconnect with family and travel home, locate housing and transitional services, enter treatment programs, and/or find employment. I'd also like to introduce Shelly, who's been my dear friend for 12 years and also on the board at The Global Bridge Foundation and has also been involved with Pastor Ron's work.
Shelley Pearce (14:51):
One thing I would ask Ron is, I've met your son and his wife are out there on the beach and they have a few dune buggy-like Jeeps that ride on the sand, and they basically approach every person that's sleeping on the beach, every morning in Santa Monica. I just wonder how you inspire that in your son, this sort of desire to give back to, to do service. How did you do that?
Ron Hooks (15:15):
I believe it's the way you train your kids that, um, Josh was serving hot dogs at the church when he was nine years old, so he's had it in his heart for a long time, just like me. He realized that his life could make a difference in somebody else's life. They've heard this their whole life. Is that the only thing that matters is how many people did you help?
Robert Strock (15:39):
The tragedy and the blessing is that homelessness is quite solvable. The Global Bridge Foundation was created to support opportunities for self-sufficiency and work to help bring the bottom of the economic sector up and support community building. My dream was and is to create models of lower-cost communities that have job training and mental health services where they live and create a sense of belonging, at the same time. Since its inception in 1999, we've helped thousands of people become more self-sufficient, starting with a focus primarily in third-world countries and microfinance. We are now centrally addressing homelessness, and low-income housing, and building these communities in the United States. We won't give up on this motivation, as there is nothing more fulfilling and inspiring than this that we can possibly imagine.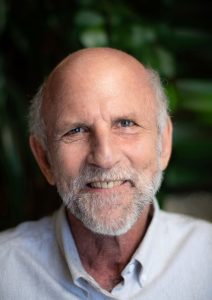 Join The Conversation
If The Missing Conversation sounds like a podcast that would be inspiring to you and touches key elements of your heart, please click subscribe and begin listening to our show. If you love the podcast, the best way to help spread the word is to rate and review the show. This helps other listeners, like you, find this podcast. We're deeply grateful you're here and that we have found each other. Our wish is that this is just the beginning. 
We invite you to learn more about The Global Bridge Foundation—an organization collaborating to heal communities and the world at TheGlobalBridge.org.
Visit our podcast archive page